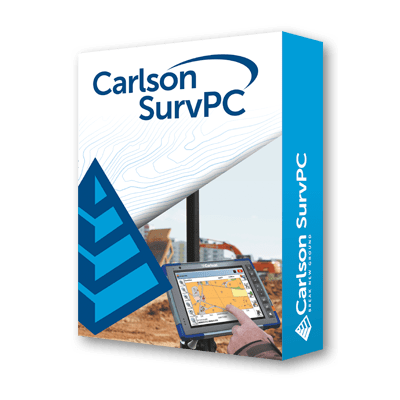 Carlson SurvPC 7
License Options

:
SurvPC 7 Upgrade from SurvPC 6.x
SurvPC supports the widest range of popular and new release RTK GNSS, data collectors, and total stations. SurvPC is a complete field data collection software solution for Real Time Kinematic (RTK) GNSS and Total Stations with in-field coordinate geometry. It can be utilized on various OEM tablets and standard Windows OS computers such as ruggedized laptops.
Highly graphical and intuitive UI is designed by surveyors for surveyors
✅  Easy data exchange due to rich support of CAD file formats including .dwg, .dgn, .dxf
✅  Field-to-Finish: create drawings intuitively and automatically as you work; saving valuable time in the office
✅  Export directly in KML format for fast control in Google Earth
✅  Camera integration allowing assignment of picture to points or lines
✅  More field capabilities with quick and easy volume calculation and ability to generate points from polylines
✅  True versatility - SurvPC runs on hundreds of GNSS, Data Controllers, and Total Station models in service today, including Geomax, Leica, Topcon, Trimble, Sokkia, Spectra, and more...
SurvPC is specifically designed for Windows OS 10 & 11 data collection devices


Enhanced search icon now available in all live survey screens with access to multiple search methods for TS & RTS
Voice prompting in stakeout allows users to keep their eyes on the environment while staking
Google, Open Street Maps, Esri® Maps, and your own WMS overlays now available in the field
GIS Inspector allows instant access to GIS attribution in the map screen
Surface Inspector enables easy comparison of plan vs. as-built in elevation difference - making it easier to store and stake specific points
Obstructed Point Stakeout allows guided staking of unreachable points by marking azimuth and distance
Automatic Backsight Check in the joystick screen makes it easier to check your setup at any time
GPS Tolerance Band instantly indicates when a tolerance is exceeded in live survey screens
SurvNet least squares adjustment in the field
BIM Support for viewing and 2D/3D staking (IFC and RVT)
Esri ArcGIS Online integration
Enhanced graphical averaging with full data visibility
Follow Me
An alternative to optical tracking, Follow Me continuously turns the total station towards the prism using the GNSS location. Say goodbye to stray reflectors and lengthy searches, and say hello to a total station ready when you are.
Smart Lock
Use smart lock for a smarter survey. The software will automatically detect when you are slowing to take a measurement and lock on to the prism so that it's ready to go as fast as you can hit store.
Smart Staking
It is no longer necessary to maintain optical tracking during stakeout. Keep your stakeout directions fresh using the GNSS receiver as you make your way to your stakeout point. When you get close, the total station will automatically turn and lock on the prism for the final staking precision you need.
Cross Check
SurvCE will automatically cross-check your total station and GNSS positions and warn you when they differ, so you can eliminate stray reflectors and false-fixes.
Backup Tracking
You always know where you are, and now your software will too. SurvCE will automatically populate your GNSS position on the map when your total station isn't locked.
Hybrid-Resection
Easy hybrid-resection allows for setup anywhere using GPS positions to calculate the total station occupied point and orientation. Measurements from the GPS and RTS are time-synchronized for an accurate and simple one-tap resection measurement.
Auto-Localize
Simplify setup by seamlessly auto-localizing your GPS receiver as you store total station points.
Easy Setup Wizard
The easy setup wizard walks you through setup using auto-localization, hybrid resection, or hybrid localization, then finishes with a Cross-Check to get you up and running quickly and confidently.
Minimum Hardware Recommendations:
Intel Pentium® or more powerful processor
64-bit and 32-bit devices supported
Minimum 1 GB RAM
600 MB of free hard disk space
1 x 9-pin serial RS-232 port optional
Wireless LAN 802.11 b/g/n optional
Integrated Bluetooth v.2.0 or better
Windows OS 10 & 11 compatible*
Tech specs subject to change
Note: UHD 4K Tablets are not supported at this time
*Running on an operating system not listed with the SurvPC version above could lead to technical issues. It is recommended to contact us for upgrading options