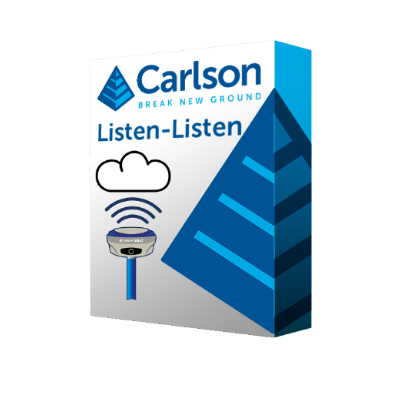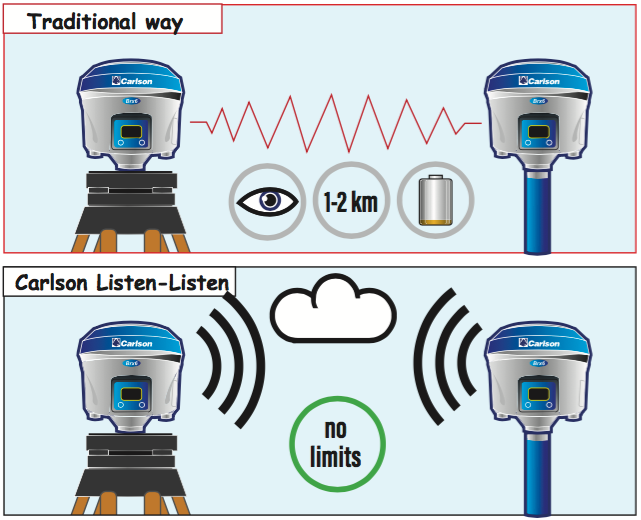 Carlson Listen Listen
License Options

:
New License - Annual subscription
Carlson Listen-Listen is a cloud-based subscription service, which sends RTK corrections to your base and rover via cellular networks. 
Traditional UHF radios in most parts of the world are limited to 0.5 watt or 1 watt power output, which gives 1-2 mi single baseline range at best. With no restriction on data format or communication range, Listen-Listen works up to 30 mi baselines.
Listen Listen eliminates traditional DOT and VRS networks, and shores up vertical tolerances so you do not have to worry about interference from other rovers on your private network.
Both easy-to-use and configurable with Carlson SurvCE or SurvPC field data collection software, Listen-Listen requires inputting just one 4-digit port number at the base and one 4-digit port number at the rover. There are no extensive parameters required, unlike UHF communication.

Listen-Listen requires an internet connection at the base and rover. SIM cards are the recommended solution to facilitate internet connectivity and reliability. Fixed or static IP address SIMs are not required. In addition, multiple rovers can simultaneously connect to a single base using Listen-Listen.
Listen-Listen is available now and supports Carlson BRx6+ and BRx7 GNSS receivers.
Note: The Listen Listen NTRIP subscription option can be utilized with any RTK drone to facilitate RTK corrections from your base GNSS receiver to the drone.